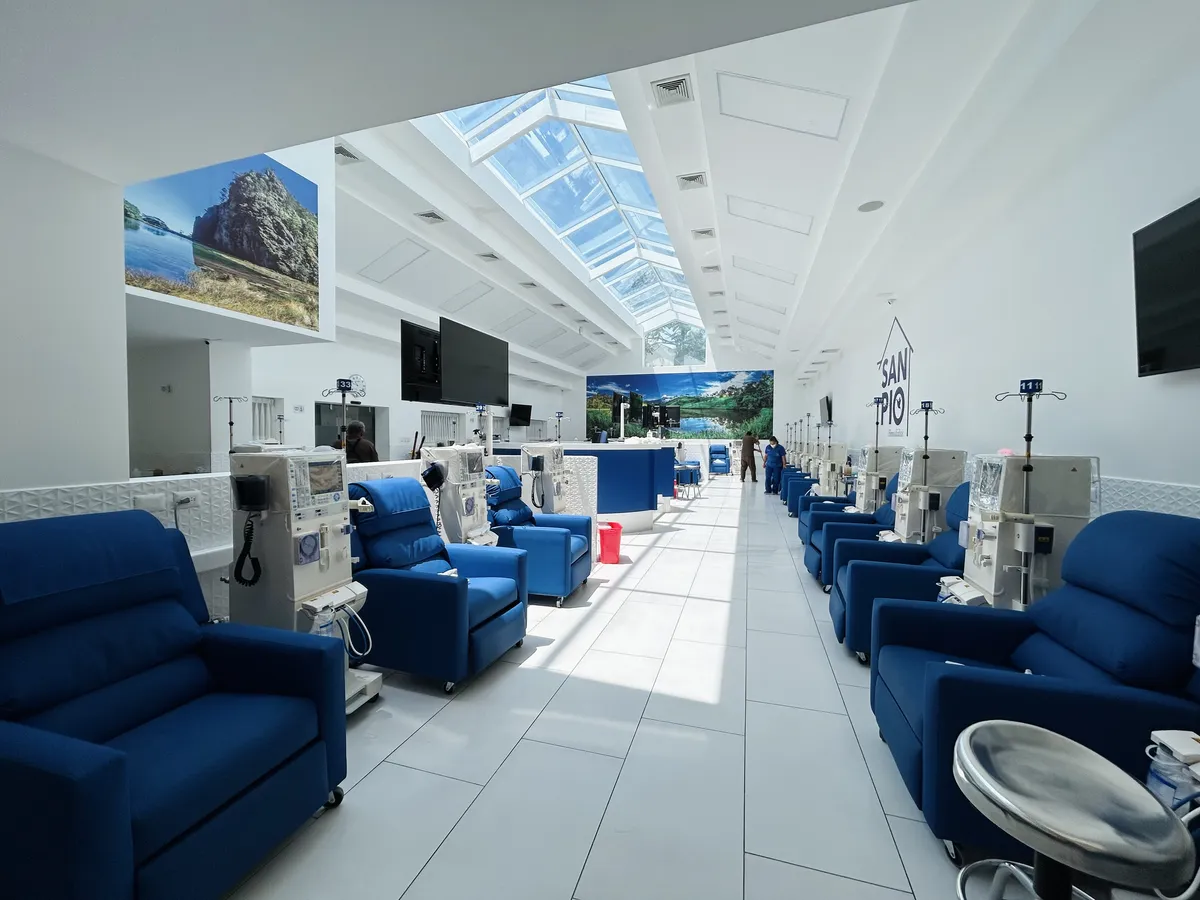 Saint Pio of Pietrelcina Renal Care House
The Saint Pio of Pietrelcina Renal Care House of the AMOR Foundation offers hemodialysis therapies in a home environment, with the most advanced technology and the best standards worldwide.
Each patient receives treatments three times a week with Fresenius brand polysulfone disposable filters; and drugs to combat anemia. A nephrologist and an internist, as well as hemodialysis technicians and nurses provide personalized and professional care.
During each hemodialysis session, which takes approximately four hours, patients use three-stage recliners, watch cable television on flat screens, have a freshly prepared snack each day, and use washed and sanitized sheets, ponchos, and pillows at each shift.
We use Fresenius 4008S machines that have a built-in sphygmomanometer to measure blood pressure, as well as a module that performs laboratory tests on patients during their treatments to ensure that the therapies are the most appropriate.
In case of emergencies, we have an ambulatory intensive care unit with cardiopulmonary resuscitation equipment, and when necessary, patients are transferred to a national hospital by ambulance.
Our two clinics, located in the heart of Guatemala City, have air conditioning, automated Granumix equipment for the creation and distribution of acid to all hemodialysis machines; water tanks with hydraulic pumps, and modern reverse osmosis systems. Power generation plants, hospital solid waste management, as well as a security and surveillance system, which guarantees the highest quality care and the greatest safety for our patients.
Surgery Program
The AMOR Foundation has a comprehensive surgery program that cares, free of charge, for low-income people who need kidney transplantation, placement of arteriovenous catheters, fistulas, removal of peritoneal catheters, as well as corrective surgeries of the urinary system.
This program includes payment for surgical procedures, operating room and hospitalization expenses (in a private hospital), and intra-hospital medications. It also covers: Laboratory tests, x-rays, medical consultations, and medications to complete the pre-transplant protocol for the donor patient and the recipient patient.
Immunosuppression bank during the first year after transplantation for patients of legal age, and for children up to the age of 18.
Free clinical follow-up in relation to donation, to donors up to 12 months after the transplant.
Frequently asked questions regarding our services
We are here to serve and take care of you. In this space, we solve some of the most frequent questions from our patients. If you require further information, please do not hesitate to contact us directly.
What are the requirements to apply to the Surgery program?
a. You must be a patient with terminal chronic renal failure,
b. Being Guatemalan and living in Guatemala.
c. Not being affiliated with IGSS
d. Have a living donor (family member or friend).
If you meet these requirements; We offer you at no cost:
a. Protocol for transplant
b. Surgery in a private hospital
c. Post-operative follow-up for 1 year for donor and recipient
d. Immunosuppression medications for a year after transplant (for minors up to the age of 18)
What are the requirements?
Schedule a personal appointment at (502) 2326-0300 and (502) 2295-0202 ext.212
Upon arrival at your appointment, present a Personal Identification Document. In case of being a minor, present birth certificate and DPI of the person exercising parental authority.
Submit the most recent laboratory test and medical prescription for all the medicines you take
Fill out the form that the Foundation will give you.
A brief interview by the Patient Care staff prior to your medical consultation with our experts.
What are my options if I have kidney failure?
There are three different treatments: Peritoneal dialysis, Hemodialysis and Renal Transplantation. You should consult with your doctor (Nephrologist) and with your family to determine which of these treatments is the best for you depending on your activities, your age your needs. The AMOR Foundation helps you make an informed decision.
Are the Foundation´s services free?
Our services are free for patients with chronic renal failure; Guatemalans who live in Guatemala and who do not have IGSS affiliation.
Do I have to be Guatemalan to be assisted by the Foundation?
Yes. You must be Guatemalan and live in Guatemala.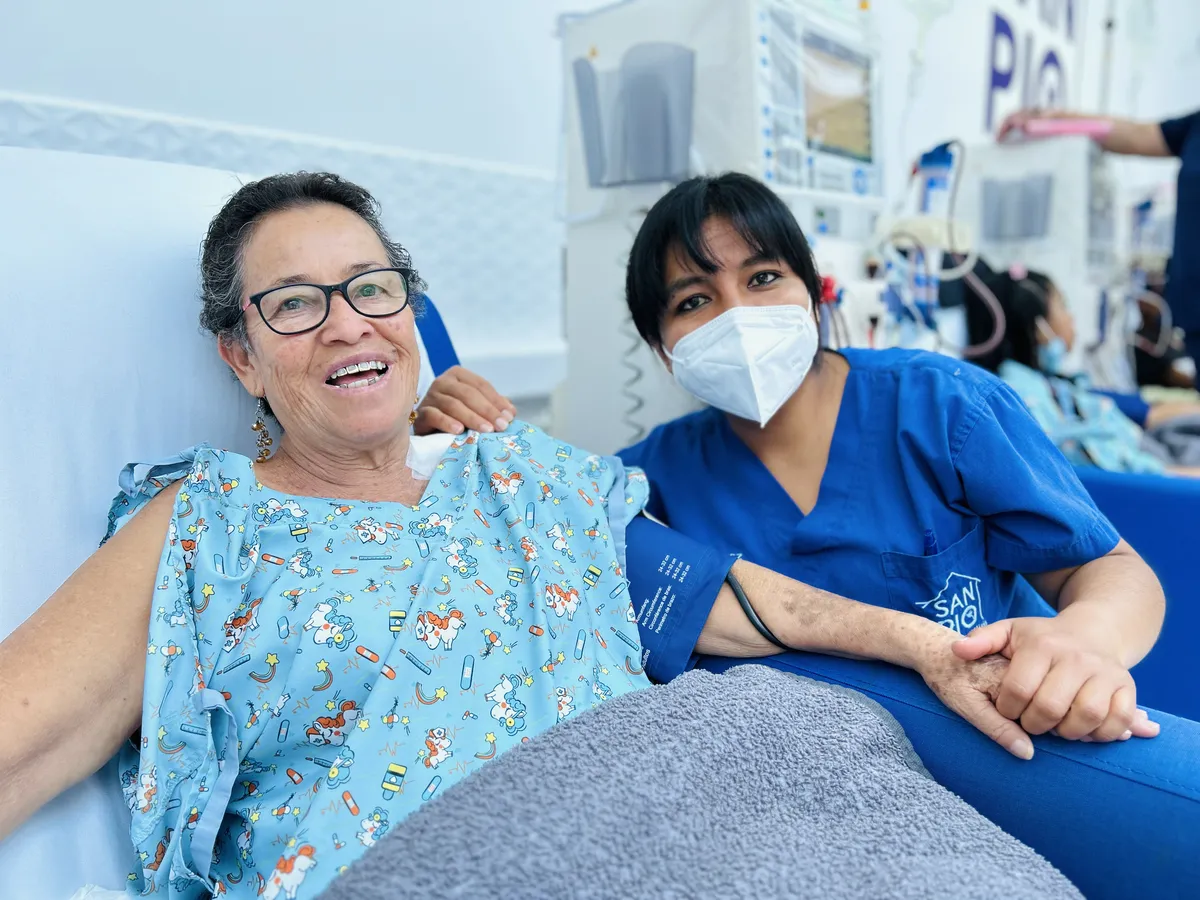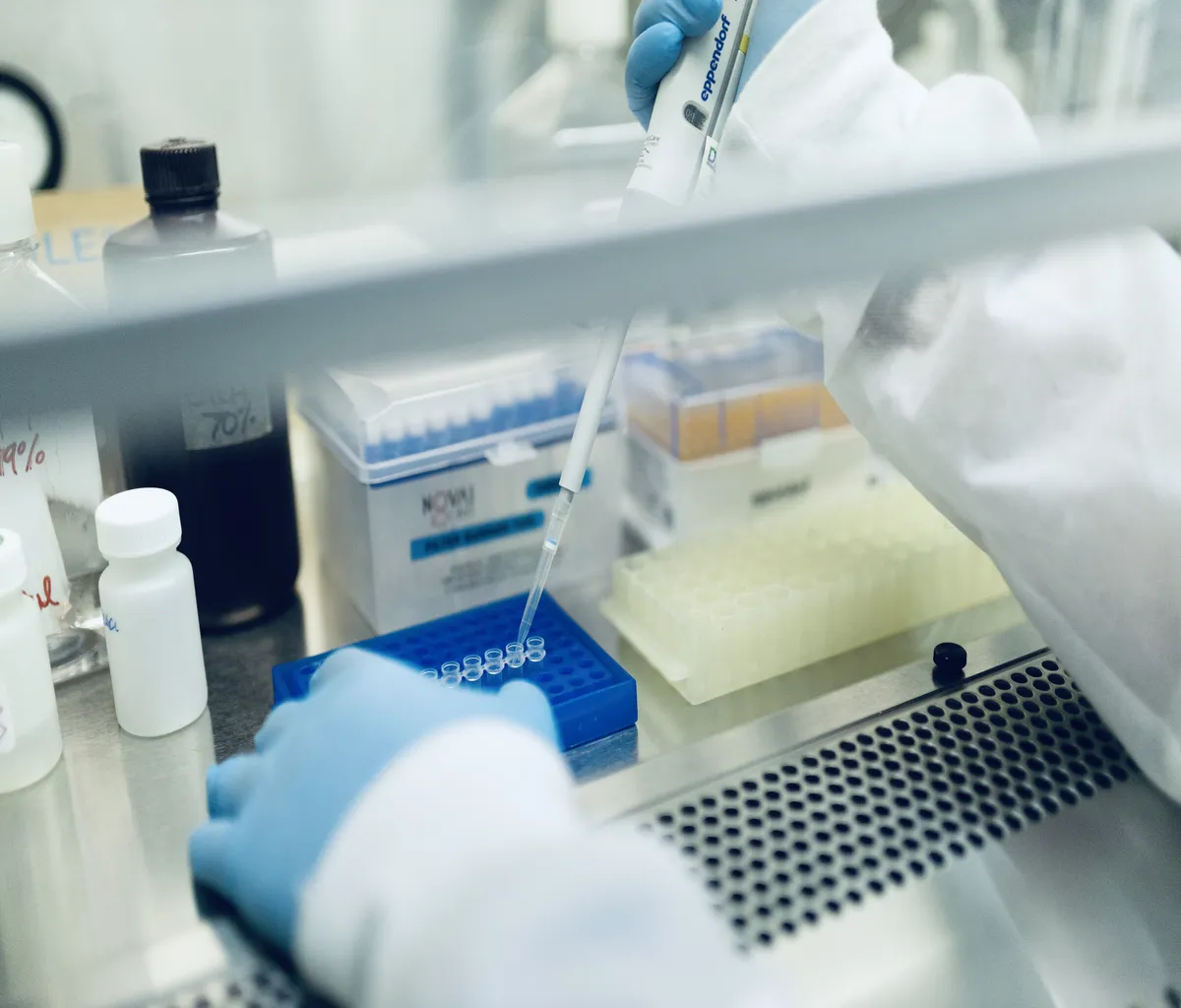 Biomolecular Laboratory
It is the most experienced laboratory in Central America that performs HLA class I and II tests by molecular biology with LUMINEX, using "gold standard" reagents, methodologies, and equipment worldwide.
These tests are essential for organ and tissue transplantation because HLA, or Human Leukocyte Antigens, are part of a group of "super genes" of the Major Histocompatibility Complex (MHC), which allows our body to identify what is self from what is not. own. Determining the compatibility between the recipient and donor helps the success of a transplant.
Cytotec 200 price is a medicine with antacid activity used to prevent stomach ulcers in patients taking NSAIDs such as aspirin or ibuprofen.
The laboratory director, Lic. Lucy Cotton Mayorga is a member of The American Society for Histocompatibility and Immunogenetics, (ASHI); and is certified by the Epidemiological Diagnosis and Reference Institute; The Share Life Foundation A C; The National Autonomous University of Mexico; and The American Board Of Histocompatibility and Immunogenetics.
Since it opened in September 2004, Fundación de AMOR's
Biomolecular Laboratory has run hundreds of HLA tests for kidney and bone marrow transplants for patients in Guatemala, Honduras, Belize, and El Salvador. In mid-2012, the laboratory implemented PRA studies to assess the status of transplant patients and those who need a re-transplant.
Additionally, he runs tests to measure the blood levels of immunosuppression drugs, drugs that transplant recipients must take for life.
The AMOR Foundation Biomolecular Laboratory, in addition to compatibility tests, offers diagnostic tests for HLA-related diseases such as:
a) HLA B27 studies for rheumatic diseases, ankylosing spondylitis, and certain types of eye diseases.
b) HLA B37 studies, for psoriasis.
All the tests carried out by the Fundación de AMOR Biomolecular Laboratory are free for low-income patients referred by the AMOR Foundation, although its services are also available to the public through TecniScan, at its headquarters in zone 15 of the City from Guatemala.
Training Center
In March 2005, thanks to the support of professionals in different fields, as well as the help of friendly companies, we inaugurated the AMOR Foundation Training Center so that our patients can find a way to work on something that allows them to improve their income. And restore their self-esteem.
Additionally, we carry out a program for the prevention of terminal chronic renal failure aimed at the general public. This program consists of involving our patients and doctors in giving talks, preparing and disseminating written information, and offering interviews to the media to publicize the disease and help prevent it throughout the country.